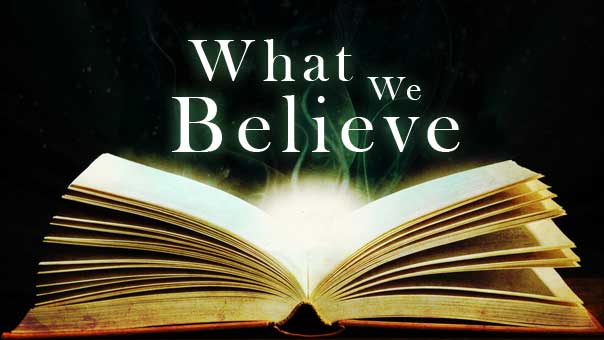 Concerning Christian Salvation
The What:
God created man with the capacity to choose good or evil. Accordingly, He knew that humanity would ultimately sin and need to be reconciled to Him. The heart of God's plan is to reconcile sinful humanity to Himself through the Mediator, Jesus Christ (1 Timothy 2:5–6). The word salvation is defined as "deliverance from the power and effects of sin." All have sinned (Romans 3:23); therefore we cannot save ourselves, because only a sinless person can save a sinful person. The Bible tells us that Jesus Christ died for sinners (1 Timothy 1:15; Romans 5:6–8).
We believe that salvation is by grace alone, through faith alone, in Christ alone. No ordinance, ritual, work or any other activity on the part of man is required or accepted for his salvation. This saving grace of God, through the power of the Holy Spirit, also sanctifies us by enabling us to do what is pleasing in God's sight, that we might be progressively conformed to the image of Christ. (Jn. 1:12–13; 6:37–44; 10:25–30; Acts 16:30–31; Rom. 3:1–4:23; 8:1–17, 31–39; 10:8–10; Eph. 2:8–10; Phil. 2:12–13; Titus 3:3–7; 1 Jn. 1:7, 9)
Salvation happens when a person confesses, calls upon the Lord, and believes in Christ (Romans 10:9-13)
Confession means to recognize that Christ is God in the flesh, that He is the fulfilled Messiah of the Old Testament Scriptures, that He has paid for all sins upon the cross, that He has risen from the dead, and that He will one day return to gather His Bride to live with His people for all eternity.
Calling upon the Lord means to turn to Him daily as Lord and Savior.
Believing means to live in a holy, Spirit-filled, loving relationship with Jesus Christ; the life that mankind was intended to enjoy from the beginning. Believing is not just a state of mind but a lifestyle.
The How:
God is the initiator of our salvation and He acts to secure salvation for sinners through election, regeneration, justification, adoption, sanctification, and glorification.
Election: There are three main views held in the body of Christ. At Ekballo Harvest we try to present all three and allow people to choose the position that aligns with their conviction.
1. Calvinism/Sovereign Election/Reformed View: By sovereign grace alone God has chosen only the elect unto salvation, because He can have mercy on whomever He desire (Romans 9, Ephesians 1:4-5).
2. Classical Arminianism/Predestination by foreknowledge: By His grace and in omniscience (all-knowing power) God has chosen salvation through Christ for those whom He foreknew would accept Him (Romans 8:29-30, Ephesians 1:4–5).
3. Corporate Election Arminianism: A third view is that Christ is the true "Elect One" (Matthew 12:15-21; Isaiah 42:1, 6; 1 Peter 2:4) and that man's election unto to salvation is based upon a person relationally being "in Christ"(Ephesians 1:4-13). Whereas the former two views hold that God's choosing of us is to be in Christ, this views sees that we are chosen because we are in Him.
Regeneration: While people disagree on whether or not this supernatural event happens before a person repents and comes to Christ or after, most agree that regeneration is the part of salvation in which God makes us alive through Christ. Regeneration is typically called being born again (John 3:3). Without a new birth, we are "dead in trespasses and sins" unable to fellowship with our Creator (Ephesians 2:1).
Justification: When God justifies us, He declares us guiltless before Him and places all the righteousness of Christ to our credit. Justification represents both God's forgiveness of our sins and the righteousness He has accounted to us (Romans 3:28; 5:1).
Adoption: Adoption means, "The placing of a son." God gives us the full rights of inheritance in His family as if we had been born into it (Galatians 4:4–5; Ephesians 1:5). Because we are God's children, we can call Him Abba, Papa, or, Daddy (Romans 8:15). As God's children, we can be confident that He understands us, takes care of us, and will bless us.
Sanctification: When we become Christians, God sanctifies us, which means "to set us apart". He sets us apart positionally, practically, and permanently for Himself (see 1 Corinthians 6:11; 2 Thessalonians 2:13). Through sanctification, we become more and more like Jesus Christ through the work of the Holy Spirit. We believe that we have been sanctified in spirit, are being sanctified in soul, and will be fully sanctified in body at the resurrection of the dead.
Glorification: When Christ presents us complete in Him, fully sanctified in spirit, soul, and body at the resurrection (1 Thessalonians 5:23, 1 Corinthians 15:42-43).
The Word of God
We believe that only the sixty-six books of the Bible are the inspired and, therefore, inerrant Word of God. The Bible is the final authority for all we believe and how we are to live. (Mt. 5:18; Jn. 10:35; 17:17; 2 Tim. 3:16–17; 2 Pet. 1:20–21)
The Trinity 
We believe that the one true God exists eternally in three persons—Father, Son, and Holy Spirit—and that these, being one God, are equal in deity, power, and glory. God is infinite in love, perfect in judgments, and unchanging in righteousness and mercy. We believe that God not only created the world, but also now upholds, sustains, governs, and providentially directs all that exists, and that He will bring all things to their proper consummation in Christ Jesus, to the glory of His name. (Ps. 104:1–35; 139:1–24; Mt. 10:29–31; 28:19; Acts 17:24–28; 2 Cor. 13:14; Eph. 1:9–12; 4:4–6; Col. 1:16–17; Heb. 1:1–3; Rev. 1:4–6)
God the Father
We believe the heavenly Father is the source of all that exists, whether of matter or spirit. With the Son and the Holy Spirit, He made man, male and female, in His image. By intention He relates to people as Father, thereby forever declaring His goodwill toward them. In love He both seeks and receives penitent sinners. (Ps. 68:5; Isa. 64:8; Mt. 5:45; 7:11; Jn. 3:17; Rom. 8:15; 1 Pet. 1:17)
God the Son 
We believe that Jesus of Nazareth is the Christ (Messiah), the Son of God; that He is God incarnate, fully God and fully man; that He was eternally preexistent with the Father and the Holy Spirit; and that He was conceived and born of a virgin, lived a sinless life, and offered Himself as a penal, substitutionary sacrifice for sinners. By His blood shed at the cross, He obtained for us eternal redemption, the forgiveness of sins and life everlasting. He was raised bodily on the third day and ascended to the right hand of the Father, there to make intercession for the saints forever. He will return to earth again to reign in righteousness. (Mt. 1:18–25; Jn. 1:1–18; Rom. 8:34; 1 Cor. 15:1–28; 2 Cor. 5:21; Gal. 3:10–14; Eph. 1:7; Phil. 2:6–11; Col. 1:15–23; Heb. 7:25; 9:13–15; 10:19; 1 Pet. 2:21–25; 1 Jn. 2:1–2)
God the Holy Spirit
We believe that the Lord Jesus Christ baptizes believers in the Holy Spirit, in Whom we are also sealed for the day of redemption. The Holy Spirit regenerates, forever indwells, and graciously equips the Christian for godly living and service. After conversion, the Spirit desires to fill, empower, and anoint believers for ministry and witness. We also believe that signs and wonders, as well as all the gifts of the Spirit described in the New Testament, are operative today and are designed to testify to the presence of the kingdom and to empower and edify the Church to fulfill its calling and mission. (Mt. 3:11; Jn. 1:12–13; 3:1–15; Acts 4:29–30; Rom. 8:9; 12:3–8; 1 Cor. 12:12–13; 2 Cor. 1:21–22; Gal. 3:1–5; Eph. 1:13–14; 5:18)
Evil
We believe that Satan, originally a great and good angel, rebelled against God, taking a multitude of angels with him. He was cast out of God's presence and is at work with his demonic hosts to establish his counter-kingdom of darkness, evil, and unrest on earth. Satan was judged and defeated at the cross of Christ and will be cast forever into the lake of fire which has been prepared for him and his angels. (Isa. 14:10–17; Ezek. 28:11–19; Mt. 12:25–29; 25:41; Jn. 12:31; 16:11; Eph. 6:10–20; Col. 2:15; 2 Pet. 2:4; Jude 6; Rev. 12:7–9; 20:10)
Humanity
We believe that humanity, male and female, was originally created in the image of God, righteous and without sin. As a consequence of disobedience, all persons are sinners by both nature and choice, and are, therefore, spiritually dead and justly condemned as children of wrath in the sight of God, wholly unable to save themselves. (Gen. 1:1–3:22; Ps. 51:5; Isa. 53:5; Rom. 3:9–18; 5:12–21; Eph. 2:1–3)
The Church
We believe that the Church is God's primary instrument, through which He is fulfilling His redemptive purposes in the earth. To equip the saints for the work of ministry, God has given the Church apostles, prophets, evangelists, pastors, and teachers. We also affirm the priesthood of all believers and the importance of every Christian being joined with and actively involved in a local community of the saints. We believe that women, no less than men, are equally called and gifted to proclaim the gospel, do all the works of the Father, and hold the ministry offices of the kingdom. (Mt. 16:17–19; Acts 2:17–18, 42; Eph. 3:14–21; 4:11–16; 1 Tim. 2:11–15; Heb. 10:23–25; 1 Pet. 2:4–5, 9–10)
Sacraments/Ordinances
We believe that water baptism and the Lord's Supper are the two sacraments/ordinances of the Church, to be observed by professing believers in Christ until the time of Christ's return. They are not a means of salvation, but are channels of God's sanctifying grace and blessing to the faithful in Christ Jesus. (Mt. 26:26–29; 28:19; Rom. 6:3–11; 1 Cor. 11:23–34; 1 Pet. 3:21)
We believe that water baptism is a covenant symbol of belonging to the church of Christ, much like circumcision was the old covenant symbol of belonging to Israel (Col 2:9-12). We also believe that it signifies one's personal decision to identify with the atoning death and resurrection life of Christ (Romans Rom 6:3-11).
We believe that the Lord's Supper, also called Communion, is the means by which baptized believers in good standing with a biblically Christian church become spiritually one with the Risen Lord and His body, the saints (Matt 26:26-29, Mark 145:17-25, Luke 22:7-22, John 6:32-40, John 13:21-30, 1 Corinthians 11:23-34).
Missions and Service
We believe that God has called the Church to work together in unity and honor in preaching the gospel to all nations, in making disciples, and in remembering the poor and ministering to their needs through sacrificial giving and practical service. This ministry is an expression of the heart of the Lord Jesus Christ and is an essential part of the kingdom of God. (Isa. 58:6–12; 61:1; Mt. 5:1–7:28; 28:18–20; Lk. 4:18; 21:1–4; Gal. 2:10; 1 Tim. 6:8)
Social Issues
We believe that God's original intent for mankind's sexuality is heterosexual monogamy and is expressed in the making of one man and one woman in the beginning (Gen 1:27). We believe that any sexual expression outside of monogamous, heterosexual marriage is outside of God's plan (Gen 2:20-25, Deuteronomy 27:21, Leviticus 18:6-18, Leviticus 18:22, Romans 1:26-27, 1 Corinthians 6:9-10). We strongly seek to avoid condoning divorce except on the grounds of infidelity and safety concerns (Matt 19:1-10). We value the sanctity of life and therefore strive to make it possible for all unwanted children to be born and placed in adoption agencies where God can place the orphans in families (Ps 27:10, Ps 68:6, Ps 139:13-16). We recognize that God is the same God and Creator of all races and therefore we seek to tear down the racial divide between people groups and cultures and build a family that is unified in the culture of God's kingdom (Eph 2:14).
Last Things
We believe in the literal second coming of Christ at the end of this age, when He will return to earth personally and visibly to reign over the nations. We recognize and allow for liberty and open discussion of varying positions of End-Times theology (Amillenialism, Premillenialism, Postmillenialism, and Preterism). We choose to be unified in the firm belief that God has not disregarded His promises to literal Israel, but that His means of fulfilling those promises is entirely up to His sovereign judgment as His ways are higher than our own. (Ps. 2:7–9, 22:27–28; Rom. 11:25–32; Acts 1:6-11; 1 Thes. 4:13–5:11)
We believe that End-Times theology should never leave us in a state of fear (2 Tim 1:7) but rather give us a sense of urgency to fulfill the great commission as we live in the tension of His second coming and the delay (Matt 25).
To Infinity and Beyond
We believe that when Christians die, they pass immediately into the blessed presence of Christ, there to enjoy conscious fellowship with the Savior until the day of the resurrection and the glorious transformation of their bodies. The saved will receive eternal rewards and forever dwell in blissful fellowship with their great triune God. We also believe that when unbelievers die, they are consigned to hell, there to await the Day of Judgment when they shall be punished in the lake of fire with eternal, conscious, and tormented separation from the presence of God. (Dan. 12:2; Mt. 25:46; Lk. 16:19–31; Jn. 5:25–29; 1 Cor. 15:35–58; 2 Cor. 5:1–10; Phil. 1:19–26, 3:20–21; 2 Thes. 1:5–10; Rev. 20:11–15; 21:1–22:15)